The key to a successful and financially secure retirement is to start planning years in advance. By fully understanding the retirement process, options, and allowance factors, you can make the best decisions for your (and your family's) financial future.
LACERA Retirement: Tools to Help You Prepare
One of your most valuable retirement planning tools is the retirement benefit estimate (RBE) calculator available at My LACERA. Using your personal employment data, the RBE calculator allows you to input potential retirement dates, service credit amounts, and retirement options to see how it will affect your monthly amount.
Our Retirement Planning section is packed with additional tools and resources to help you through every phase of your retirement. Read through the following sections for a comprehensive overview of retirement resources and allowance topics that will help you make informed choices before, at, and even after retirement.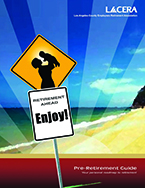 Be sure to contact us if you have questions about any of the information provided or how it affects your personal situation. We are always ready to help.